I am so glad to announce that I am planning to attend Declare Conference again this year.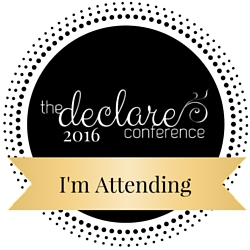 Last year was my first year to attend The Declare Conference. I wrote about how excited I was, and about how God worked out all the details for me to go in this blog post. And I wrote a summary of my experience and how amazing it was in this blog post.
The theme for this year is Presence, which so excites my heart, because there is nothing I love more than being in the Presence of the LORD!
If you've never heard about Declare before, well, it is a blogging conference hosted by the sweetest group of ladies, who are all about equipping women to be Jesus online.
Actually, it used to be called a blogging conference, but they have expanded it to be so much more. They coined the term #DigitalEvangelist to describe the women who want to know Jesus and make Him known online… through their blogs, podcasts, social media sites, businesses, and more.
Declare Conference 2016 will take place Thursday night – Saturday night, July 28 – 30th in Southlake, TX.  (Dallas area)
They have a great line-up of speakers, including Kat Lee, Heather Macfadyen, Lara Williams, Michele-Lyn Ault, Kristin Lemus, Rachel Martin, Ali Worthington, Anne Watson, Jen Weaver, Blythe Daniel, Jessica Kirkland, Lindsey Riel and Jenn Sprinkle.
Some of the sessions I look forward to the most are:
How to turn inspiration into practical action: Deciding what comes next when ideas (and opinions) abound
5 Lies we believe about running a website
Blog your way to a book deal
It's in the secret place we are developed
Breaking Busy
To see the complete schedule and speaker details visit DeclareConference.com.
The Declare team has challenged everyone who is attending to participate in a LinkUp by creating a post answering the following SIX questions.
I am taking the challenge, so here are my answers:
1. If we were meeting in person, how would you introduce yourself? (job, family, career, ministry, where you live … share whatever details come to mind)
Hi I'm JoDitt Williams. (I usually include my last name. Otherwise people think Ditt is my last name.) I grew up in New Mexico, but have lived in Texas since I got married in 1988. My husband and I are empty-nesters, who have traded our house for an RV and our horses for a Harley. We have two married children, two grandchildren, and one on the way.
I love art, graphic design, computer and techie stuff, flowers, strawberry smoothies, sunshine, cute caps, and pretty things— especially anything pink and/or floral.
I have a passion for encouraging, uplifting and inspiring women to live a life full of joy, while gaining victory over fear. I co-lead a weekly Bible study class and am planning to branch out into teaching virtual workshops and e-courses, combining art and creativity with encouragement, truth and accountability, to help God's Princess Warriors fight (and WIN) the good fight of faith.
We were encouraged to include a recent photo of ourselves, so I have included a pic of me and my sweet granddaughter in our cute caps. 🙂
2. What is your favorite thing to write and why?
Lists and notes. Does that count? I have pretty notepads and colorful sticky notes everywhere. 🙂
As for writing things for others to read, I like writing things that teach, encourage, and provide practical applications. (This is completely in line with my personality, as my spiritual gifts are teaching and encouraging.)
My favorite things to teach about are truths from God's Word, prayer, and techie stuff. On my blog, those passions manifest themselves in posts about Coloring for Adults, Bible Art Journaling and Praying God's Word.
Furthermore, I am a very visual person, as well as being an artist, and a graphic designer, so I can't help but include pretty things along with my writing, whether it be a beautiful font or some butterfly doodles, maybe some pictures of pretty pink flowers, or a piece of hand-lettered Scripture art. For instance, I really enjoy creating things like Miss Clara's Prayer or this Pretty Prayer Journal Template for your War Room, and other pretty printables that you can find in my Library of Free printables.
I am having a blast as I am working on creating my first devotional coloring book, called Cherishing The Word of God through Coloring.
And I am also planning to write a book on 30 Things You Can Always Thank God for— even in the most difficult circumstances. It will include prayers based on Scripture, along with colorful graphics and artwork.
—>>> Psst! If you'd like to be the first to know when I launch my books, fill out the form below. You will also get instant access to my entire library of free printables.
[convertkit form=4857760]

3. What is your favorite thing to read and why? (If this question is too broad for you avid readers, what's a favorite book or blog you've read lately?)
I love learning, so it stands to reason that I love to read books and blogs that educate… especially on the topics of God's Word, prayer, Christian living, art, design, blogging, entrepreneurship, productivity and organization.
Right now I am reading:
4. If you could choose to do anything for a day, what would it be?
I would love to go to the International House of Prayer in Kansas City and spend a whole day in the Prayer Room.
5. What's one thing you love about your blog and one thing you'd like to improve?
I love the WordPress theme I am using, and the overall feel of my website, but I would like to make the main column on my blog narrower. I've read through all the documentation on my theme, but I can't figure out how. I'd also like to make the main font (this font you are reading right now) larger. Maybe soon I will be able to upgrade my theme to one that is easier to customize.
6. [Lightening Round] Would you rather …
Read on Kindle or paperback? I like to read paperback or hardback books, because I like the smell and feel and look of them. And I like to highlight and write notes in them. However, I also like to read at times and places that are not convenient to have paper books, so I also like to read on my Kindle app on my iPhone.
Drink coffee or tea? Don't like either. I drink mostly water with the occasional lemonade.
Go to a musical or a movie? I like either, as long as they have a good story.
Vacation at the beach or the mountains? Mountains
Have an exciting night out or a relaxing night in? It depends on how tired I am and if I have recently been mostly at home or mostly away.
Watch sports, play sports, or no sports? I used to compete in rodeos. Now I don't really care much about sports. Except watching gymnastics and ice skating in the Olympics.
So that's a little bit about me. You can read about some of the other ladies who will be attending Declare Conference 2016 at the Declare 2016 LINKUP.
Please leave a comment below and let me know if you will be attending Declare this year. I'd love to meet you there.
Joyfully,
*This post may contain affiliate links. Your cost is the same, but it helps support the site and keep my freebies FREE! See my full disclosures here. Thanks for your support!