God Bless America!
Do you love the USA? Do you pray for America? Do you pray for our President?
1 Timothy 2:2 instructs us to: "Pray this way for kings and all who are in authority so that we can live peaceful and quiet lives marked by godliness and dignity." (NLT)
I found this
Congressional Prayer for the Fourth of July
and found it very interesting and may use it as inspiration for my own prayers for America.
This prayer was offered on July 4, 1861 in the Senate, by Rev. Byron Sunderland, D.D.
Almighty and everlasting God, be not angry with us for our sins, which we only confess and deplore; but pardon our offenses and extend to us Thy favor. We thank Thee for Thy goodness on this anniversary of the nation a day tenfold more precious by reason of our present troubles, and sacred to the heart for the ever memorable Declaration of our fathers, in which Thou didst begin more openly to give us a name among the nations of the earth. We thank Thee for all Thy manifold and abundant mercies hitherto to make our nation exceedingly great and glorious; but now disasters have befallen us and darkness broods in the land.

And now we ask Thy mercy as the Senate is convening at a most momentous crisis of our history. Give to Thy servants all needed help. Add to their deliberations wisdom and unanimity, and profit and speed to their conclusion.

Bless Thy servant, the President of the United States, our veteran Commander-in- Chief, and all that have functions in the civil and military power. May the angel of Thy presence walk in the Cabinet and in the Congress and in the camp, to go before, to purify, and to direct the now greatly and universally-awakened love of country.

And we beseech Thee to guide us, to overrule and order all things, and so to cause that nothing shall fail, that the disorders of the land may be speedily healed, that peace and concord may prevail, that truth and righteousness may be established, and that Thy Church and Kingdom may flourish in a larger peace and prosperity, for Thy Son, our Saviour, Jesus Christ's sake. Amen. (Source: Congressional Globe, 37th Congress, first session, new series, 1, 4 July 1861.)
You can read some more Congressional Prayers for the Fourth of July HERE.
To help remind you to pray for America, I am sending all of you who are on my email list, these
FREE "God Bless America" wallpapers
not only for your phone, but also for your tablet and computer as well.
Not on my list? Sign up now.
Just fill in the form at the bottom of this post.
These graphics will be available inside my Library of Free Printables.
Want to frame & hang this design?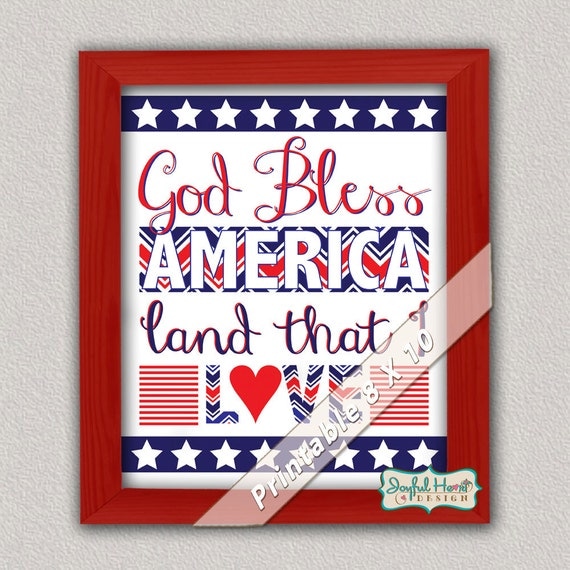 Get an 8×10 printable or 11×14 printable (digital file) from my Etsy shop then print however many copies you want.
Take advantage of my INDEPENDENCE DAY SALE –
Now through JULY 5th, 2015
BUY 2 GET ONE FREE!
Purchase 2 wall art printables (including Scripture art & nursery decor) from my Etsy shop. Then email or convo me (or type it in the Note to Seller section) the name of the third print you want. You should receive your free printable via email within 24 hours.