Learning to hide God's Word in your heart doesn't have to be difficult. However, you must be intentional about it.
Coloring in a Scripture coloring book, like my "Delight in the Word of God – Volume 1 – Favorite Scriptures" makes memorizing and meditating on God's Word easy and fun, but it does take some devoted time.
If you are looking for ways you can still meditate on the Word of God, even on those days when you are on the go all day long, you've come to the right place.
Some of these strategies I'm going to share with you take a short amount of time, initially, to set them up. But after that, they are all things that you can do WHILE you are doing all the things on your schedule. You do not need to add more time into your already busy schedule in order to do them.
So, sorry, but I am taking away your excuse of not having time to memorize Scripture.
Actually, I am not sorry, because I know that learning to hide God's Word in your heart can dramatically change your life for the better, like it has mine. My prayer for you is that you would be able to say, along with the psalmist who wrote Psalm 119:
"I cherish your commandments. Oh, how I love them! —relishing every fragment of your counsel." -Psalm 119:47 (MSG)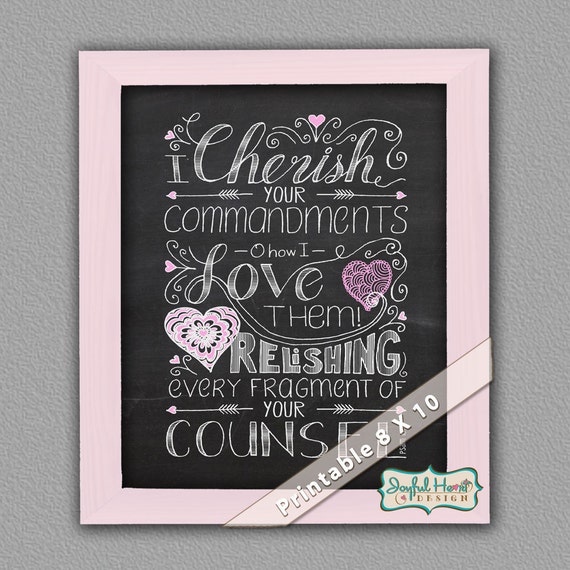 [Tweet "God's Word is an indispensable weapon; – Ephesians 6:17b MSG"]
Do not go into your War Room (prayer closet) without any weapons or ammunition. Or with a dull sword. And since there is no telling what trials you might face during the day, don't leave home without it!
For the word of God is living and powerful, and sharper than any two-edged sword…– Heb. 4:12 NKJV
Here are 15 Ways to Hide God's Word in Your Heart Without Adding More Time to Your Busy Schedule
1. Listen to an audio Bible…
while exercising, driving your car, traveling to and from work, running errands, washing dishes, doing laundry, putting on your makeup, getting dressed, etc. My favorite way to do this (because it is easy and free) is to use the free Bible app (by YouVersion) on my iPhone. Click here for a tutorial on how to listen to the Bible using the Bible app. The app is available for all different brands of phones and tablets. There is also a web version for viewing/listening while on your computer.
2. Use a Scripture picture for your computer wallpaper.
Say/pray the verse (out loud if possible) every time you switch tasks, while working on your computer. Crosscards.com has lots of beautiful free wallpapers with Scriptures. (If you don't know how to change the wallpaper (background) on your computer, just google it.)
3. Use a scripture graphic as your smartphone wallpaper.
Every time you open your phone, say/pray the verse (out loud if possible.) Crosscards.com also has wallpapers for your phones. When you find a wallpaper you like, just click the Download button, then choose iPhone 6 (or whatever model of phone you have) instead of 1400×900 or whatever your computer resolution is.
You can also download a bunch of pretty Scripture wallpapers I have created when you subscribe to my free printables library here.
(Again, if you don't know how to set the password on your phone, just google…"how to set wallpaper on iPhone" or "on Android", etc.)
4. Use a Bible verse as your password.
Use a scripture reference or main words of a verse as your password for an online account that you login to daily.
5. Recite a Bible Verse to one of your godly girlfriends.
You know we are going to talk to our girl friends, whether that is scheduled in our planners or not. We always make time for that, because it is a necessity! So, pick at least one godly girlfriend who also has a desire to hide God's Word in her heart, and whenever you have a conversation her, (whether it be in person or on the phone,) make time to recite your memory verses to each other.  You might also explain what it means to you and how you are applying it to your life or what God is speaking to you through that verse.
6. Hang Scripture wall art in your bathroom.
Look at it and read it or pray it out loud every time you visit the bathroom.
7. Tape scripture art to the back side of your cereal box.
Read it, meditate on it, and pray it while you eat your bowl of cereal, instead of reading and re-reading how many grams of sugar you are eating. You will be feeding your spirit and renewing your mind while you are feeding your body.
8. Text your memory verse to a friend.
You can do this anytime you are waiting in line… at the grocery store, at your child's school, at doctor's office, etc. You will be surprised at how much this will help you hide God's Word in your heart. Plus, you will also be sending encouragement to your friend.
9. Create a Scripture album on your smartphone.
Another thing you can do while waiting in line is to look at and read/pray Scripture graphics on your smartphone (or a deck of printed scripture cards).
To make an album on my iPhone, I just open my Photos app on my iPhone, then click on the Albums icon (at the very bottom), then click the + sign at the top left corner. (See screenshot on left above.) It will prompt you to enter a name for your new album. Type in a name and click SAVE.
Image on right above is a screenshot of my Scripture album.
10. Tape a Bible verse inside cabinet doors.
Pick cabinets that you open on a daily basis in your bathroom and/or kitchen. Then Read/say/pray the verse every time you open that cabinet door. (Washi tape works great for securing cards to your cabinets, plus it comes in so many pretty patterns and colors.)
11. Hang Bible verses on your fridge door.
Use cute magnets or colorful washi tape. Change them every week or so. Every time you open your fridge, say/pray the verses (out loud if possible.)
12. Listen to Scripture songs.
Listen to, or even better, sing along with scripture songs. Some of my favorite albums/CDs are:
13. Tape a Bible verse inside your laundry basket (on the bottom.)
When you go to do your laundry, see if you can quote the verse. Then you can check to see if you got it correct when you empty the basket.
14. Record yourself reading Bible verses
For hiding longer passages of Scripture in your heart, record yourself reading the verses or praying Scriptures back to God. (Most phones have an app for that. On iPhones it is called Voice Recorder.) Then listen to it while… exercising, driving your car, traveling to and from work, running errands, washing dishes, doing laundry, etc. See THIS POST for a free Pretty Prayer Journal Template and instructions on how to write strategic prayers based on God's Word.
15. Use the power of pretty
All beauty originates from God, so it is natural that we are attracted to beauty.
For GOD is great, and worth a thousand Hallelujahs… Royal splendor radiates from him, A powerful beauty sets him apart.  – Psalm 96:5-6 MSG
So, when choosing Scripture art to hang in your bathroom, or Scripture graphics for your wallpaper, or Scripture songs to listen to, choose things that are pretty to you… things that are attractive to your eye or your ear. That will make learning to hide God's Word in your heart even more fun and easy!
"…all beauty in the created order, both in the heavens and on the earth, derives its beauty from the "radiant form" of the Person of Jesus Christ, Who is the express image of the Beautiful God.

As human beings created in that image, we are made to resonate with the form of that which is beautiful, and we find ourselves captivated by beauty wherever we see it.

– Fr. Dubay from The Evidential Power of Beauty
Joyfully,
*This post may contain affiliate links. Your cost is the same, but it helps support the site and keep my freebies FREE! See my full disclosures here. Thanks for your support!
I link up to the Link Parties listed HERE.
Pin image below so you won't forget!