Do you realize how important it is to know The Word of God by heart? It is the Sword of the Spirit – our only offensive weapon to use when we battle in prayer? Do you know this is true, but think that memorizing Scripture is too hard for you? Or too boring? Or that you are just too busy? Do you wonder if there is an easier, less boring way to hide God's Word in your heart? Well, there is! Hiding God's Word in your heart or memorizing Scripture can be quite easy and enjoyable when you use Bible Verse Printables.
What is a Scripture Printable?
It is simply a file that someone has created using a Bible verse. You can save the file to your computer, then print it out using your printer at home or at work. Or you can have the file printed by an online printer, like Persnickety Prints. A lot of Bible Verse Printables are an 8×10 size, so they are perfect for framing. And some are 5×7 or 4×6 or index card size or bookmark size. But what I love about them is that most Bible Verse Printables are very PRETTY! And you can find them in almost every style, from modern minimal to elegant to whimsical.
You can see a lot of different styles and sizes of Bible Verse Printables on my Pinterest Board:
Benefits of Printables over Prints
If you purchase a Scripture Art Print (art that has already been printed on paper), it might be more convenient because you don't have to print it out yourself. However, if you want one for yourself and one to give to a friend as a gift, you will have to purchase 2 prints. However, when you purchase a Bible Verse Printable (or download a free printable), you can print as many copies as you want. (Usually, you are limited to using the printable for personal or ministry use only.)
Another benefit of printables is that you resize the file and print it out at a different size. So with one 8×10 Bible Verse Printable, you could make a framed print, and also print it out at a reduced size to make a greeting card. And you could print another one to give as a gift, and another reduced size one to put in your planner or Bible.
Wondering just how to make the best use of all these beautiful Bible Verse Printables?
Here are my Top Ten Ways to Hide God's Word in Your Heart Using Pretty Printables:
1 – Print out a Bible Verse Printable and frame it using an inexpensive dollar store or DIY 8×10 frame. Hang it on your wall or place it on your desk. Then say the verse out loud every time you pass by it.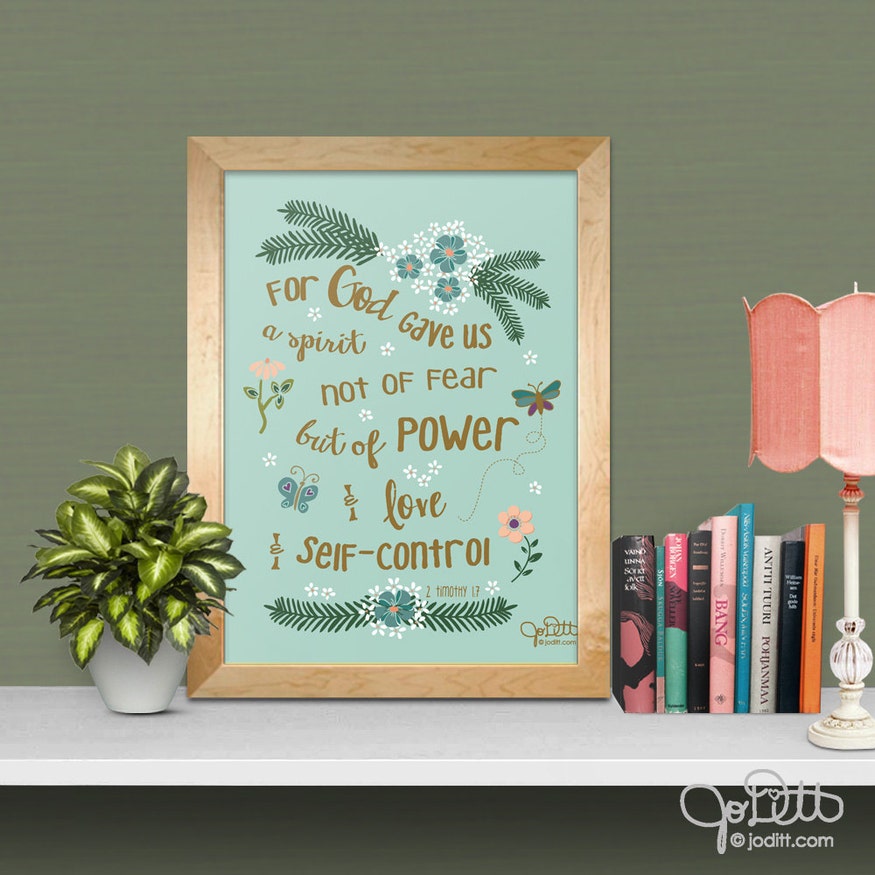 Print out a Bible Verse Printable. Using some cute washi tape, stick it on the inside of a cabinet door you open frequently (in your kitchen or bathroom.) Whenever you open that cabinet door, say a little prayer using that Scripture.   
Save a Bible Verse Printable to your smartphone. Set it as your lockscreen. Then every time you go to open your phone, say the verse, or pray it out loud. 
Use a Bible Verse Printable to make a greeting card for a friend.
Print out Bible Verse Printables. Add them to your Prayer Journal so you can use them when you pray. Punch holes to add them to your 3-ring binder. Praise Book, or disc-bound notebook. Or use cute washi tape to add them to a spiral or hard-back prayer journal. 
Print out Bible Verse Printables. Use patterned washi tape to add a "tip-in" to your Journaling Bible.
Print a Bible Verse Printable coloring page. Meditate on that Scripture and talk to Jesus about it while you have fun adding color and creativity.
Print out card-size Bible Verse Printables (or reduce the size of larger size printables). Place them in a 4×6 mini photo album or punch a hole in one corner and put them on a ring. Schedule a time every day to go through them, meditating on each one and hiding it in your heart. Practice repeating the Scripture out loud without looking at it. This is a great activity to do with a friend or with your children.
Print out Bible Verse Printables. Add them to your weekly or monthly planner. Meditate on the Scriptures and say them or pray them out loud before you plan out your week. Or every day as you check your planner to see what's next on your agenda.
Print out Bible Verse Printable. Stick it on your bathroom mirror. Meditate on that verse while you fix your hair and makeup every morning. Change it out every week or so and you'll have lots of verses memorized in no time.
Wondering where to find beautiful Bible Verse Printables?
Well, you've come to the right place. 🙂 You can get access to my ENTIRE Library of Free Printables. Simply fill in the form below.
GET INSTANT ACCESS TO MY LIBRARY OF FREE PRINTABLES FOR COLORING AND BIBLE JOURNALING
Sign up to receive FREE Scripture printables and other digital delights, available exclusively to subscribers!
You can also find beautiful Scripture Art & Bible Verse Printables for sale in my Etsy Shop.
And I will soon have a Printable Scripture Coloring Book. Click here for a SNEAK PEEK!
My NEW Printable Scripture Coloring Book is now available for purchase HERE!
Coloring, creativity and photography by Elizabeth Cortez.
Also, be sure to follow my Bible Verse Printables Pinterest Board where I link to the prettiest Bible Verse Printables I can find.
Despite knowing how important it is, if we are not intentional about hiding God's Word in our hearts, well… it's not going to get done.
Because as wives and moms and grandmothers and sisters and friends and business owners and employees and volunteers, we always have urgent things that call for our attention. I believe it is a tactic of our enemy, the devil, to keep us so busy serving (because serving is a good thing, right?) that we neglect doing the things that keep us strong, (like sharpening our Swords,) until we are completely worn out and defeated.
But memorizing Scripture and hiding God's Word in your heart does not have to be hard, or boring, or take a lot of time. So let's just do it! How are you going to use Bible Verse Printables to help you hide God's Word in your heart? (Tell me in the comments below.)
---
*This post may contain affiliate links. Your cost is the same, but it helps support the site and keep my freebies FREE! See my full disclosures here. Thanks for your support!