These days, lots of bloggers (including myself) are wanting to leverage their skills and knowledge to increase their income by teaching an online course. More and more people are eager to learn from the comfort of their own home. And because quarantines are still in effect in many places around the world, the number of people wanting to learn from home has increased dramatically.
But I have found that simply having the expertise to teach is not enough. You also need the right set of tools – which are completely different than those needed for teaching in person. Plus you also need tools to help you market and sell your course.
I have personally tried out several different course creation platforms, trying to find one that works best for me (a blogger with a small budget.)
What is the Best Course Creation Software for Bloggers on a Budget?
In this post I want to help out my fellow bloggers by sharing my experience with Skillshare, Teachable, Thinkific, Podia and other tools needed to create and sell online courses – and what is, in my opinion, the best course creation software for bloggers on a budget.
I started out by creating my first course on Skillshare.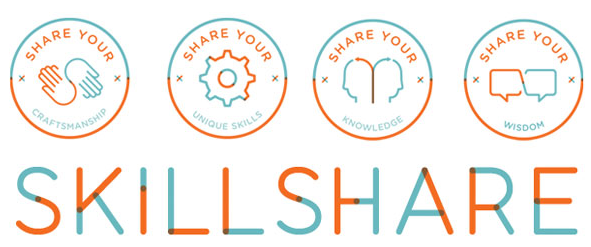 I was a student on Skillshare because I found it was a great way to get access to a lot of different courses for one small price. Then I found out that Skillshare was holding a course creation challenge and anyone who got their first course published by a certain date would get a free subscription for one year of Skillshare Premium. That was a huge incentive to me so I decided to go for it!
This was around the time that I published my first devotional coloring book. I was looking for ways to market the book, so I decided to create a course on How to Pick the Perfect Color Palette.
I did get it published by the due date and did receive my free year of Skillshare Premium. I found the platform easy to use – both as a customer and as a teacher. I made a few hundred dollars when I first launched the course, and continue to earn (a small amount of) money from it every month. I don't have to pay any fees to use Skillshare and I earn money every month, so that is a huge plus.
What I like about Skillshare:
There are no fees. Period. It costs you nothing to create and sell as many courses as you want.
Platform is user friendly.
I get student who find me just from searching/browsing on Skillshare.
It's a great experience for my students.
I don't have to worry about customer service, refunds, etc.
I can give people 2 free months of Skillshare premium, and I earn $10. (Yes, you can SIGN UP HERE and get access to my course and thousands other for free for 2 months- and I will earn $10.)
Drawbacks of Skillshare:
I don't own it, so I have to follow their rules and they can change them whenever they like.
I don't earn as much as I hoped I would.
Some would say that you are leaving money on the table – that there is the potential to earn a lot more by having your course on your own website. I have found this to be true. (I have earned more from selling on my own site in 3 months than from selling on Skillshare for 4 years.)
I cannot send emails to my students to offer them other courses.
It is great for courses that are on broad, general topics, but not as great for smaller niches (like Bible Journaling – which is what I like to teach.)
Why I started using Teachable
I wanted to submit my course to be included in a couple of different bundles, like the Ultimate Homemaking Bundle. (Sign up here for free to become an affiliate for Ultimate Bundles.) In order to do that, it had to be on my own website so that I could give people who purchased the bundle access for free. At the time, Teachable the lowest starting fees, and paid you right away instead of holding your money and only paying you once a month. So I recreated my How to Pick the Perfect Color Palette course in Teachable.
What I liked about Teachable:
I don't think they had the app when I first started using Teachable, but now, I'm a student in several courses that are hosted on Teachable, and I it is very convenient for me to access all my courses using the Teachable app on my iPhone.
At the time when I started using Teachable, according to my research, I was getting the best value for my money.
Drawbacks of Teachable:
Teachable did not host videos, so I had to pay for a separate account with Wistia or Vimeo to host my videos.
It was not very customizable.
The basic plan was very basic. It cost a lot more for other features that I wanted – like being able to have affiliates for my courses.
Why I switched to Thinkific:
I believe I switched from Teachable to Thinkific because they both changed their pricing plans, and I could get access to more features (that were important to me) for less money with Thinkific.
What I liked about Thinkific:
They hosted my videos, so I did not have to pay for a separate software to host my videos. And it was easier to just be able to upload everything to Thinkific.
It was more customizable that Teachable.
It integrated well with my email software, ConvertKit.
I got paid immediately whenever I sold a course.
Drawbacks of Thinkific:
Although it was possible to customize a lot of things, it was not easy to do.
Their cheapest plan would not allow you to create coupon codes.
It shows every product you publish as a "course" with "enroll now" buttons, instead of "buy now." (I wanted to be able to sell my digital downloads and printables on the same platform as I sold my courses, instead of paying and maintaining 2 separate websites.)
Why I was still in search of the Best Course Creation Software for Bloggers on a Budget
Up to this point, I had only published one other course. What I was making earning each month was less than what I was paying in fees. So I was looking for ways to lower my costs – and my time spent maintaining all my different platforms. I was using Thinkific for my courses, and was using Shopify and Etsy for my digital downloads and printables. So I was on the search for course creation software (that did not cost very much) that I could also sell my digital downloads and printables on.
But it also had to integrate easily with ConvertKit, and allow you to create coupon codes. And I wanted to also be able to have an affiliate program. And it had to look pretty from the customers view.
Podia fit all my requirements except one – it was not pretty. All the demo sites and websites I had seen created with Podia were ugly! I had tried out their free trial a year or so ago and I did not like the way it looked and it was not very customizable.
Why I switched to Podia
However, I had access to an extended trial (as a bonus to one of the bundles I had purchased from Ultimate Bundles), so I decided to give them another try. I'm so glad I did, because I learned that it is possible to make a "pretty" site using Podia.
Podia offers free live trainings every week. I hopped on several trainings and begain asking lots of questions as I built out my site. I learned a lot, not just about how to use Podia, but about marketing strategies as well. And one feature that I do not recall Teachable or Thinkific having is live chat. I can ask a question on Podia's live chat and usually get an answer within a few minutes. If it's late at night, it might be the next day, but they always answer in less than 24 hours, and are always VERY helpful!
I now have around 30 products for sale on my Podia site and am finally earning more than I pay in fees! Yay!!!
What I like about Podia:
I can publish both courses and printables on the same platform.
I can publish new products very quickly and easily (once I got past the initial learning curve.)
I can EASILY add an upsell to any product. (This has increased my revenue quite a bit.)
Their free trainings are very helpful.
It integrates very easily with ConvertKit.
I love being able to ask a quick question via live chat and get a quick answer.
I get paid immediately when someone purchases a product.
I can make my site "pretty" and customize it without knowing or using any code.
Drawbacks of Podia:
It doesn't integrate with very many email softwares. I was thinking of swithing from ConvertKit to BirdSend or FloDesk because they are cheaper, but in order to integrate with Podia I would have to use Zapier, which would cost me more money, so it would not actually be cheaper to switch.
It still lacks a few random features that would be helpful. (like tagging customers who use a certain coupon code so I can send an email to only them)
So is Podia the Best Course Creation Software for Bloggers on a Budget?
If you would have asked me this question 2 months ago, I would have said YES! Click HERE to try out Podia!
However, I have since learned about a different software that appears to be even better. Here is why:
This NEW SOFTWARE not only includes a course creation platform, but it also includes:
a Page Builder, Funnel Builder and Checkout system (so you can quickly and easily create opt-ins, landing pages, and upsells and downsells)

This can be used instead of LeadPages, ClickFunnels, ThriveCart, etc.
NOTE: I used to not be interested in doing upsells or downsells, but have found from my experience with Podia that they can drastically increase your income for minimal effort – and the customer loves it because you are helping to solve their problem and helping them get a great deal too.)

Email software – which, of course, integrates seamlessly with everything else

This can replace ConvertKit, MailChimp, MailerLite, etc.

Affiliate software – so you can have your own affiliate program
Video hosting software

This can replace Wistia, Vimeo, etc.

Blogging platform (that loads pages WAY faster than WordPress, which helps you rank higher, and more quickly in Google – and includes hosting)

This can replace WordPress and hosting software (like SiteGround, BlueHost, GoDaddy, etc.)

Survey and Quiz software
HelpDesk software
Ecommerce store software

This can replace Shopify, BigCommerce, WooCommerce, etc.
You can sell digital or physical products
And the best part is:
All these parts work together seamlessly.
For a limited time, you can pay ONE PRICE and get LIFETIME access to the Platinum Level – which includes everything listed above.

NOTE: That ONE PRICE is less than I currently pay PER YEAR just for my ConvertKit subscription alone!!!)
PLUS, if that was not enough…
They also have a very generous JV affiliate program, so that if you refer just 3 people who sign up for this new software, your commission will be more that the ONE PRICE you paid for LIFETIME access! (Yes, I've included my own affilliate links in this post.)
Also, they have a FREE PLAN, with free lifetime access to some of the software and features, so you can dip your toe in the water before you decide to take the plunge. In fact, you must first sign up for a FREE ACCOUNT before you can get the LIFETIME deal.
CLICK HERE TO SIGN UP FOR A FREE ACCOUNT (It is free for life and they will never ask for your credit card!)
—>>> Please beware! This NEW SOFTWARE is still in Beta. That means they have not yet worked out all the bugs. I would not recommend using it for a course you are planning to launch this month. Personally, I have purchased PLATINUM LIFETIME ACCESS and am slowly working on moving all my stuff over.
If you have any questions about this new software, or any of the other course software I have used, please leave a comment or contact me via email or DM. I'm glad to share what I know – so we can all grow our blogs and businesses to impact more people for good.