Have you seen the movie, War Room, starring Priscilla Shirer? If not, I highly recommend it! Not only is it very inspiring, but it is also very well written and produced. In the movie, the term "war room" is what Miss Clara calls her prayer closet (an actual closet) where she goes to "fight" in prayer. Ever since the movie's release, every day there are more and more ideas on Pinterest showing how you can make the perfect war room for yourself. I love those pins and posts. They are full of great ideas. However, this post isn't about turning your closet into a prayer room. Instead, it is about bringing your war room out of the closet.
You're going to love these ideas if, like me, you have very limited space with absolutely no room for a prayer closet. The reason I have no room is not because I have too many clothes or shoes. You see, I live in an RV, which (thankfully) does have a closet. However, half of closet is for my husbands clothes. And even if I took all of my clothes out of the closet, there would not be room for me to fit in the closet.
Now, you may not live in an RV, but maybe you live in a house that has no closets (or extra bedrooms.) Maybe you share a tiny dorm room with your college roommate. Or maybe you are blessed with many children and half of your closet is already filled with baby clothes.
Or maybe you do have an extra closet, but between changing diapers, and running your business, and taking care of your elderly parents and your special needs child, you would have no time to ever go into it.
So… what's a girl to do?
NO EXCUSES, LADIES! Do whatever works for you.
The devil would love to keep you from praying because he knows how powerful your prayers can be. So he will do anything and everything to keep you from praying—including making you think have to have a certain kind of room or a certain amount of time or space. But the ONLY thing that is required to have a powerful prayer life is a relationship with Jesus Christ.
So here are a few ideas to help you be intentional about praying, even if you don't have much time or space.
Idea #1 – Make a Prayer Banner
I got this idea from my awesome prayer warrior friend, Nathalie of Nathalie Kelley's Art. (She is a fabulous artist and one of the most creative ladies I know. Be sure to check out her art.)
In Nathalie's own words, she shared this idea "…because sometimes your war room might be a sink full of dirty dishes or a load of laundry."
So all you need to do is get about 4 feet of heavy string, twine or rope of some kind. Use thumbtacks to hang it in your kitchen window, or in your laundry room, or in the bathroom where you can see it as you comb your hair and put on your makeup (or use the potty.)
Then take some paper. It can be pretty paper, if you have some, or plain notebook paper, or sheet music, or wrapping paper… whatever you have. Then cut out some triangles and some little pennant-shaped pieces (see pic). Then write out your prayer requests on the paper. Keep it short… just enough so you know the main idea of who or what you need to pray for. Then attach the triangle and pennant-shaped pieces to the string using clothes pins.
Now whenever you wash dishes or do laundry or umm… take care of business in the bathroom… you can look at your prayer banner and be reminded to spend some time in prayer while doing these simple tasks that don't take much thought.
Idea #2 – Use Sticky Notes or Magnetic Notes
This idea is similar, but instead of writing your prayers on a banner, write them on sticky notes or magnetic notes (colored paper that clings to any surface.)
Then stick them on your bathroom mirror, on your bedroom wall, on the fridge, on the dash of your car, in your planner, in your briefcase, in your wallet, etc.
If you don't want them to take away from the beauty of your home, place them in inconspicuous places, like inside of your kitchen cabinet doors, or in your underwear drawer… places where you would see them everyday, but they would not be seen by guests… like stuck on your breakfast cereal boxes, or in your makeup drawer.
Aren't these prayer sticky notes by DaySpring just adorable!
Idea #3 – Create Pretty Prayer Cards
Do the same thing as with the sticky notes, but use pretty journal cards and washi tape.
I like to write my prayer on one side and the Scripture that the prayer is based on on the other side.
To make your own pretty prayer cards, just use unlined index cards, or cut a piece of white cardstock into fourths. Then hand letter your prayer or Scripture using colored pens. Or use a black pen to write the letters and draw some doodles, etc.
Then use colored pencils or markers to add some color. Use washi tape to stick them to the wall, inside your cabinet, or wherever. I like to put one inside my medicine cabinet in the bathroom where I keep my makeup.
If you don't really like to DIY it, you can start with a journal card that is already pretty.
Like these Printable Floral Journal Cards. (Click to purchase.)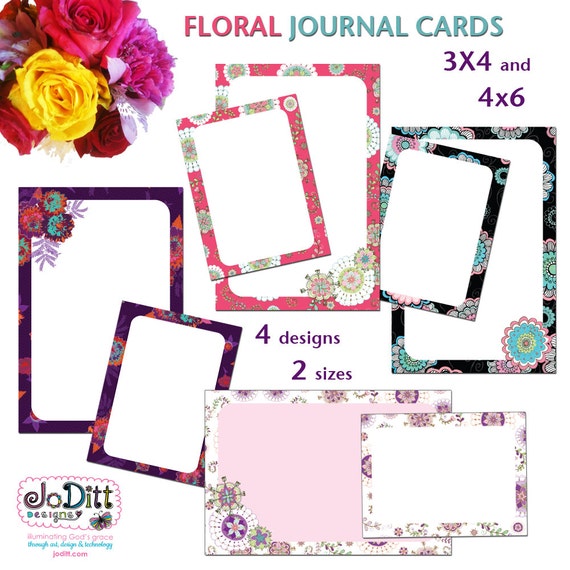 Or these Printed Prayer Cards. (Click to purchase.)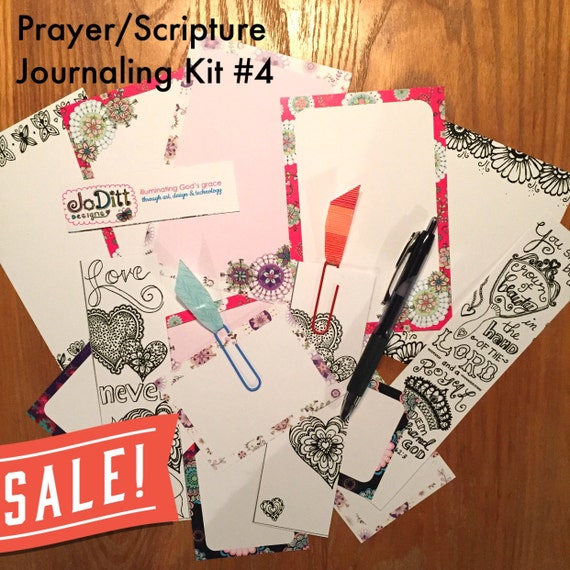 Or download these FREE printable Mini Scripture Journal cards, which are available in my Library of Free Printables.
(If you have already signed up for my FREE Printables Library, check your email for access instructions.) If you haven't signed up yet, just fill in the form below.
GET INSTANT ACCESS TO MY LIBRARY OF FREE PRINTABLES FOR COLORING AND BIBLE JOURNALING
Sign up to receive FREE Scripture printables and other digital delights, available exclusively to subscribers!
Idea #4 – Make a Bible Study & Prayer Basket or Tote Bag
If you are like me and don't have a craft room or office or even a dedicated space for prayer, Bible study and journaling, then you will love this idea.
I use this pretty tote bag, (pictured above,) that has lots of pockets, but you could also use a plastic caddy, tin pail, or a cute organizer basket.
Photo credits from left: Big Family Blessings | Teresa Cooper | Everyday Savvy | Together With Family
---
Just gather any supplies you might need for your prayer time and put them in your bag or caddy—things like your Bible, pens, pencils, markers, journal cards, washi tape, prayer journal, etc. Then whenever you get a few minutes, you won't waste time looking for your Bible and supplies, but can just carry your supplies to your favorite chair, or to the kitchen table, or even outside, and immediately dive in.
Idea #5 – Use Your Smartphone
You carry it with you everywhere you go and look at it dozens of time throughout the day, so why not use that to enhance your prayer life?
My favorite way to use my phone to remind me to pray is to set a pretty Scripture  or prayer graphic as my lock screen. Then every time I open my phone and see it, I will say a quick prayer based on that Scripture.
Idea #6 – Keep a Prayer Journal
Even if you write your prayers on a banner or sticky notes or on pretty journal cards, I would recommend that you also keep a prayer journal. This is where you can actually write out your conversations with God and where you can write down as many details as you like. It is also where you can keep a record of prayers that have been answered— and how God answered.
Your prayer journal can be as simple as a 3-ring binder with notebook paper, or a spiral notebook or even a lovely moleskin journal.
Or you might prefer something that has some prompts and questions for you to answer, like…

Idea #7 – Have Some Fun!
God invented JOY! And Jesus came that we might have life and have it more abundantly. (John 10:10) So, let's enjoy life more!
I enjoy coloring, so I will often pray while I am coloring. I created a coloring page for you of Miss Clara's prayer that she prays at the end of the movie War Room.
Just click the image above to download it.
If you would like to gain instant access my entire library of free printables, including coloring pages, journal cards and more, just complete the form below.
Joyfully,
*This post may contain affiliate links. Your cost is the same, but it helps support the site and keep my freebies FREE! See my full disclosures here. Thanks for your support!
I link up to the Link Parties listed HERE.