When your life gets hectic and overwhelming, and you need a little break, but don't have the time or resources for a full-blown vacation, a girls night out could be just the ticket. A Girl's Night Out can be done on a tiny budget with very little planning. Just grab a movie, pop some popcorn, call a few of your godly girlfriends, and you're all set. To ensure that you don't waste your evening with a sub-par quality movie, or with one that makes you uncomfortable because of bad language or a terrible story, I've created a list of Girls Night Movies, that are great whether you are staying in or going out with your godly girlfriends.
1. WAR ROOM
"War Room," starring Priscilla Shirer, is a must-see movie for Christian women and is my favorite Girls Night Movie. In fact, it's one movie that I recommend seeing more than once. Not only is it an excellently produced movie with top-notch actors, it will get you fired up and inspired to pray (and win your spiritual battles) like never before. This would be a great movie to actually own the DVD so you can watch it anytime you are feeling a little (or a lot) discouraged. Just have your own Girls Night In.
From the award-winning creators of Fireproof and Courageous comes WAR ROOM, a compelling drama with humor and heart that explores the power that prayer can have on marriages, parenting, careers, friendships, and every other area of our lives.
Tony and Elizabeth Jordan seemingly have it all—great jobs, a beautiful daughter, and their dream house. But appearances can be deceiving. Tony and Elizabeth Jordan's world is actually crumbling under the strain of a failing marriage. While Tony basks in his professional success and flirts with temptation, Elizabeth's bitterness only increases.
But their lives take an unexpected turn when Elizabeth's newest client, Miss Clara, challenges Elizabeth to establish a prayer "war room" and a battle plan of prayer for her family. As Elizabeth begins to fight for her family, Tony must decide if he will make amends.
As Miss Clara wisely says, "Victories don't come by accident!" A #1 movie in theaters, now available on DVD, WAR ROOM is filled with more of the authentic characters loved by millions in previous Kendrick Brothers' films and a vivid reminder that prayer is a powerful weapon.
Buy War Room on DVD or watch it free, along with other great girls night movies, with a STARZ Free Trial
.
—>>> Psst! Get my FREE War Room Prayer Journal Template HERE.
2. GOD'S COMPASS
If you liked War Room, you'll love this movie too. "War Room" actors, Karen Abercrombie, and T.C. Stallings (who was also in "Courageous"), team up once again to inspire audiences in "God's Compass."
GOD'S COMPASS demonstrates, the Lord's universal Truth, that no matter what we faces in life there is a greater force, a greater wisdom that guides us when we follow God's Plan for our life, our "True NORTH."
After 3 years the Water's family is still struggling with the loss of a devoted husband, ISAAC, for SUZANNE and a loving father to DAVID.
Healing comes to both through a miraculous encounter with a 16-year-old, ELI. A juvenile delinquent, Eli has been running from foster care and the law in order to stay together with his sister, NAOMI. Eli steals cars to make ends meet.
The Waters and Eli's lives first intersect when JESSICA, David wife and soon to be mother, is driving home from Suzanne Waters' retirement party. Jessica suddenly pulls over in an abandoned side of town because she is having severe, premature contractions. Eli sees the BMW and decides to steal it, but when he breaks in, he discovers, Jessica. Faced with a decision, he chooses to risk his arrest by taking her to the hospital, saving her life and the baby's.
At the hospital an officer recognizes Eli and arrests him, starting the journey that crashes his life into the Waters' family.
Suzanne must trust God's "Calling" and risk the security of her retirement. David faces a choice between family and advancing his career. Jessica needs to hold the grace that can only come from trusting God's Will for her new born baby and Eli must stop running and accept that he deserves to be loved.
By following God's direction Suzanne realizes there is no retiring in God's Kingdom. She champions a path to help Eli, which will uncovers the miraculous blessing Isaac Waters never reveal before his passing. A strong bond forms between David and Eli, both having lost their fathers, which illuminates Isaac's blessing, bring healing to the family and hope to Eli and Naomi.
The truth revealed brings the reassurance that our God has a plan for everyone's life, our TRUE NORTH.
If your family's like most, budget friendly is always a bonus. "God's Compass" and thousands of other family movies are available at PureFlix.com for free, when you sign-up for a free-month trial.
3. LOVE DIFFERENT
This award winning Christian comedy tells the story of Lindsay Walker (Jenn Gotzon), a Caucasian woman who grew up in a small, all Caucasian town in Iowa. When she lands a job at an African-American consulting firm, she finds herself in complete culture shock. Her new African-American co-worker, Neque Campbell (Anthony Hackett), is given the task of teaching Lindsay all about black culture. The trouble is Neque has only 48 hours to teach Lindsay everything she needs to know before her first big meeting at the new company.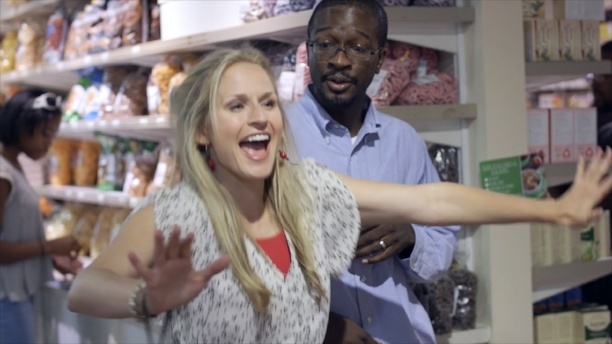 "Love Different" addresses many different themes, including racial tension, different ways of serving God, marriage problems, child-rearing challenges, and even the embarrassment of being on welfare. Woven into each problem is the solution that we must love differently. Even when we feel like we're giving it all we've got, we must stop and ask if we're loving in the right ways. Or, like the film suggests, do we need to love differently?
With its engaging script, "Love Different" challenges the perception that a comedy not need not have any depth. While this movie will certainly make you laugh, it will also inspire you to look at the ways you love others and ask yourself how you too can love them better.
"Love Different" is now streaming at PureFlix.com. You can watch "Love Different" plus thousands of other girls night movies and TV shows for free when you sign-up for a free month trial.


4. HILLSONG – LET HOPE RISE
Capturing the on-stage energy and off-stage hearts of the Australia-based band Hillsong UNITED, HILLSONG–LET HOPE RISE is a new motion-picture genre—the theatrical worship experience. The film explores Hillsong's humble beginnings and astonishing rise to prominence as an international church whose songs are sung every Sunday by more than 50 million people worldwide. Showing in theaters in the USA beginning September 16th. For more info and to find a theater near you, visit HillsongMovie.com. Wouldn't this make a fabulous Girls Night Out?
5. LAUGHING IN THE DARK
I'm a part of the Godly Girlfriends Ministry Team and we are getting ready for our next retreat, which will be in Ohio in October. Our theme for the retreat is Deborah: The Warrior, The Armor, The Crown. I will be speaking on The Sword of the Spirit & the Lance of Prayer.
There will be 20+ of us godly girlfriends traveling from Texas to Ohio. It costs each team member $1000 to make the trip, so we are hosting a Girls Night Out for a fundraiser to help with our travel costs. Godly Girlfriends Retreats is a "Mary Magdalene" type ministry. Luke described Mary Magdalene and the other women as supporting the ministry of Jesus out of their own means. (Luke 8:1-3)
Godly Girlfriends Ministry is excited to announce a movie night experience you won't want to miss!
Christian comedian Chonda Pierce in her movie, "Laughing in the Dark" will be showing at the Ritz Community Theatre in Snyder, Texas on September 22nd, 24th, and 25th.
Make it a Girls Night Out with your girlfriends or a movie date with your man–everyone will enjoy Chonda! To purchase tickets contact Davina Douglass at The Word is Life Church at (325) 573-0612. There may also be some tickets available at the door. Just tell Davina that JoDitt sent you.
All proceeds to benefit the Godly Girlfriends Ministry for future Retreat expenses.
Get more info on the Ohio Retreat HERE.
If you will not be able to attend the movie, but would like to donate towards my travel fees, just click the DONATE button on THIS page and be sure to leave a note that the donation is for JoDitt Williams. I appreciate your support very much!
If you can't attend our Girls Night Out, but would like to see "Laughing in the Dark," you can get it on DVD.
What other movies would you recommend for a Girls Night Out? Please let me know in the comments.
Joyfully,
*This post may contain affiliate links. Your cost is the same, but it helps support the site and keep my freebies FREE! See my full disclosures here. Thanks for your support!
I link up to the Link Parties listed HERE.
Download your FREE printable War Room Prayer Journal Template
You will also get access to my entire library of FREE Scripture printables and other digital delights, available exclusively to subscribers!